---
Hello! Welcome to WeirdWacky, the site dedicated to humor, weird cool stuff, and general sillyness! From funny flash animations, to cool downloads or funny pictures, this is the site to go if you want a laugh! Every week there will be a new "most wackiest site of the week" and that site will get a full review and a rating out of 10 stars! Head off to the review section to check out the reviews so far!

Also in the news section (below) updated daily (well, mostly) will be links to sites that I've found that day, or old favourites that have been updated! All the links ever featured in the news or reviews will get archived in the Link Archive, so i'd suggest heading over there first. Thats not all, because not only will this site feature sites that i've found, but also sites that you recommend! So if you'd like to suggest a URL, just mail me and i will check out the site (if i havn't already) and check it out, and see if it's weird enough to be featured on the site!

One thing i want to make clear, is that i may use art or pictures from a site in order to promote that site, in a review for instance, and i am in no way trying to 'steal' art for my own purposes!
---
Updates
04/04/02
OH MY GOD! WHAT THE HELL IS HAPPENING!?!! Wait, i think... could it be? is this an.. UPDATE!? OH MY GOD I THINK IT IS!! WOW! ok well it isn't really, i just want to say i'm alive, and i really can't be bothered with this site any longer. Really is it was just a project to make me learn HTML, and it's achieved that, so now, its dead. But i'm going to leave the page up anyway for your enjoyment, to gaze at it's beauty and wonderousness. Or switch off your monitor in disgust, either way i don't care! cya! >:D

---
07/03/02
Hi! here's a great page. It's called The Funny Things To Do With Your Microwave page and, surprisingly, its full funny things to do with your microwave. Some of these are pretty old, i've heard them before. But some i hadn't, for instance, putting a bar of soap in the microwave!



copyright ©here


Hmmmm, interesting! don't know if mother would appreciate that...

---
05/03/02
Hi! Im really sorry I havn't been updating that much recently, really i am. In an attempt to bribe your back your friendship, i'm going to give you THIS WEEKS REVIEW! (well actually its last weeks, Ssshhhhh!, dont tell anyone!) The review is about, as i promised, the astoundingly funny Camp Circus! YAY!

---
03/03/02
Hey, sorry i havn't updated for a while, but my mind has been occupied by other things. Anyway, here's an extremely weird site indeed. It's the International Paruresis Association. Do you know what it is? It's a site for people who find it difficult or impossible to, err, urinate in the presence of others! Hahaha, sorry but that just strikes me as funny, if you know me then you'll know i laugh at the most unfunny things. Those of you who are (and i quote) "Pee-shy" this is a great resource for you. Those who aren't, this is a great source of weirdness for you to enjoy!

---
28/02/02
Hey there! So how is everyone? have you had a good day? mail me and let me know. At school today, i didn't do any work in german! Yay! Anyway, heres a cool site. This is a cool flash animation, similar to one i've seen before, but still very funny! Won't say anymore, because i'll spoil it. Just click the link will you? Ehem. (01/03/02) Sorry. Its gone. Just like that. Vanished. BAH!

---
27/02/02
Hi! Guess what? The Douglas page has been updated! Well, actually this update was made quite a while ago, but i just remembered. Its the Mark Richie page! Let me explain, or rather, heres a quote from the site!

"Yes we all hate Mark, but did you know how much, by the way Mark if you're reading this you'd better not come to School in the future, Hatred, Rage, Pain, all these words are a summary of Mark's life (as well as sad) Enjoy these comments that we have written about Mark (we mean it from the bottom of our evil hearts!). This has nothing to do with Douglas in anyway

Mark Richie is a fictional character created from imagination and has nothing to do with any real Mark Richies, so if any real Mark Richies stumble onto this site then we are not talking about them we are just talking about then Mark Richie that we made up ourselves, the only thing resembling the fake Mark Richie to the real Mark Richie is the name, we have a friend called Mark Richie in our school and we are not talking about him we are talking about the fake Mark Richie"

Confused? Well, basically there are a group of friends in school, and in the lessons they write notes. These notes are very often about one thing, THE ABSOLUTE HATRED OF MARK RICHIE. hehe, they are very funny! Go there now!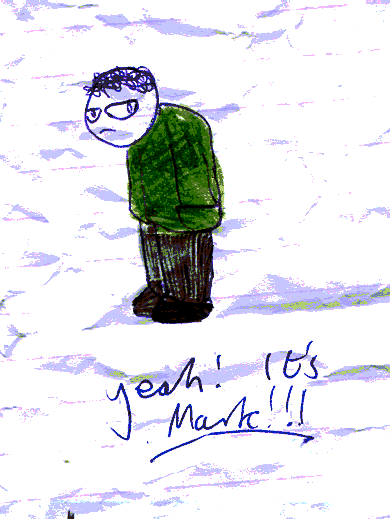 This is an artists impression of Mark. Its very accurate.

---
26/02/02
W00t! Hi, I'd like to thank the guys at Camp Circus for being the first site to join the Weird Wacky Top Weird Site List!! And, after checking out their site, i'd like to congratulate those fine lads for an utterly spiffing site! This site is Utterly weird, and extremely funny! From the gruesome "Non-celebrity Death Match":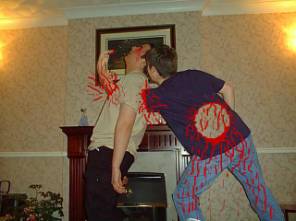 © copyright Camp Circus, www.campcircus.da.ru


..to "Bruce's zoo", a collection of photos of the most rare and bizzare animals you've ever seen! This is a great site, the best of BRITISHS (YAY) humor, and some little bird tells me that this week's review might be heading their way.... GO THERE! CLICK HERE

---
25/02/02
Hi! One of my favourite sites, Team Fish Cake has been updated with LOADS of new content!!! WOOoOOOoOOooOOOoOOooOooOoooOoOoooo!!!!!! yay!!! hehehehe!! its great!

---
24/02/02
I just created my own Weird Top site list Here so if you are the prowd owner of a weird or wacky (preferably both) site, then go and submit your site! Its a great way to increase traffic to your site and its so easy!



So if you want tonnes of traffic to your site, click HERE

---
Read My Guestbook! | Sign My Guestbook!

Think this site is cool? Vote for me!
Copyright © Weird Wacky 2002